Hello,
I doubt many of you remember me. But to the few that do, hello again.
Apologies, as this may be a bit of a long rambling post.
I recently logged-in after 2 months or so and got an Odin Striker J-VI through a regular pull. I realized I had no idea what the value of the card was or how it would fit into my lineup. But I also came to the realization that I haven't played a competitive event in close to a year. So most of my cards are outdated and hold only sentimental value, if any.
But I do drop by this forum on a semi-regular basis and kind of makes me happy that people still play this game and that it is tight knit community. After leaving FF and Gameview, I have been working on GIJOE-Battleground for more than a year now, and occasionally on Super Battle Tactics . I am currently working on a super cool project that is very hush hush. I am not trying to brag or give my resume here, just that that this single project started my career in gaming, and that I have you guys, the players to thank for it in some part. So once again, thanks !

But this is just not rambling, I have a ton of old cards and quite a few good cards. I had all four CXB bots, and the CXB-Ashmaker has part of my name in it.  

 But the CXBs are nerfed, so they have only sentimental value.
So that being said, I want to give away most of my characters.
So, Arthainius, legendslayer contact me, I'll arrange to have my characters given out. I would prefer to have regular members of the forum/game get the characters equally divided amongst themselves. I'll leave the details to you guys.
Also I thought, I'd share the original art of the Leader characters that appeared when the game was initially launched.
Also, there seems to a misunderstanding, so I'll clear that up too. I did the LINE art and the character designs for all the original characters when the game was launched and later on all the poses/designs of the characters. The later characters after sept 2012 were drawn by other artists, I only did their poses. Also the main colourist for a vast majority of the characters was the fantastic Sabine Rich :
http://sabinerich.deviantart.com/
The colours for all of these characters below is done by Sabine Rich, with a little touches by CXB or other inhouse artist.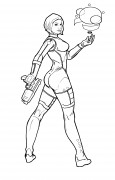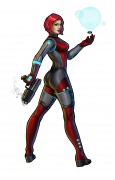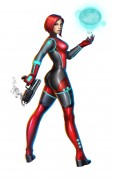 Angel eyes as I drew her, the old comic style of colouring and later when she was updated with the new Leaders in a more painterly style.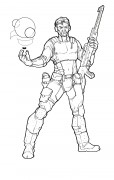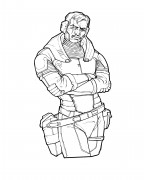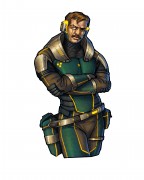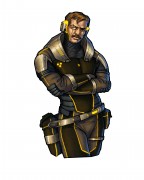 Marcus was originally supposed to an extra playable leader character, that changed. Notice the similar floating hologram he shares in common with Angel Eyes. So here is revised line art, and the original green colour scheme and how he looks now.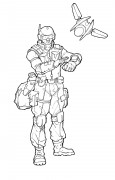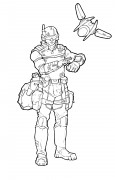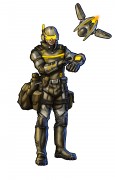 Engineer Watson too was originally supposed to an extra playable leader character, that changed. I originally drew him as a more military looking guy, but CXB wanted more futuristic look, so I revised the line art, how he looks now. Sort-of.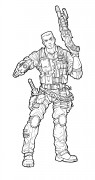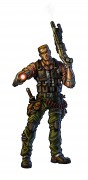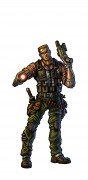 Alvin as I drew him, and his original colour, but CXB made his gun shorter, as he appeared in game. ( I hadn't quite figured out the optimal sizes in those early days)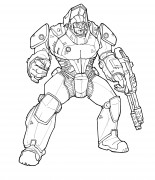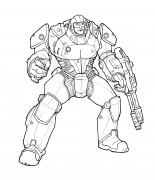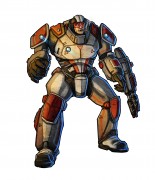 Boomstick was originally drawn with a vizor/canopy over his head, CXB changed that and the final colour pose was also changed a bit to make him fit on to the pedestal. (Those were very early days.)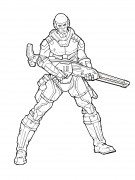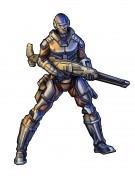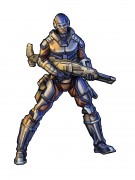 Brody as originally drawn and coloured, again his gun shortened to make him fit better on the pedestal.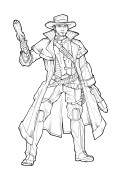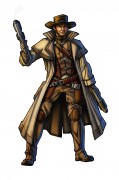 Duke had the least amount of changes, CXB gave him the sparse beard. I had him with a full-er beard.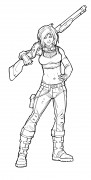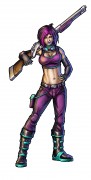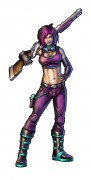 Elliot was fun to draw, again the final version had the gun barrel shortened.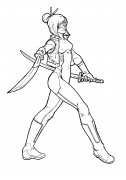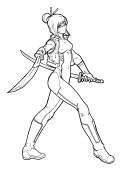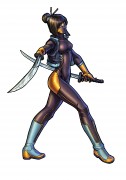 I had drawn Jade with a vizor and a face, it was CXB's idea to give her a mask. It changed her character for the better, and I added to that change when I made the revised version with a green color scheme, with the original orange accents.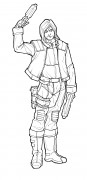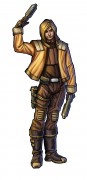 Jessie as I had originally drawn him. His pistol was a tad shorter in-game. ( it was barely noticeable)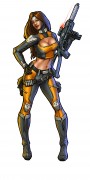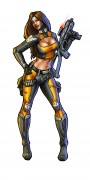 Mean Mary took less time than I had imagined. Despite her detailed line art, she was done very fast and the final version  had only the gun barrel changed.
Thanks.